Description
LEARN. INNOVATE. DISRUPT.
Inclusive Child & Youth Mental Health: Training for the Digital Age
DIVERT Mental Health is excited to host a one-day event that brings mental health trainees, faculty, clinicians, industry, and NGO staff to learn together. The event is dedicated to innovative learning activities taught by a multisectoral group of experts ranging from patient-partners to policy makers and clinicians to researchers to innovators. Our day focuses on the intersection of inclusivity (diverse ways of understanding mental health; diverse populations) and accessibility (innovative technologies that increase reach of mental health interventions) in mental health. Participants from a diverse area of disciplines are invited, particularly psychology, medicine, nursing, social work, rehabilitation sciences, computer sciences. Expect to leave with new knowledges and skills to support your work in mental health!
Lunch and coffee breaks will be provided to all in-person participants.
DIVERT will be using PheedLoop Event Management software to allow for a more fun and interactive experience for all participants. Following Eventbrite registration, both in-person and online participants will be invited to join our PheedLoop event platform. Through Pheedloop, registrants will receive up to the minute information on our sessions and speakers, and will be able to connect with each other through the platform's Networking tool.
The Gamification tool on the platform will be a fun way for participants to gain points as individuals or in groups towards prizes. Stay tuned to find out more about what the prizes will be!
Important points to note:
*Live interpretation English to French will be provided via Zoom.
*This is a hybrid event with 100 in-person spots ($25 per ticket + applicable fees) and 50 virtual spots ($15 per ticket + applicable fees) available on a first come first serve basis.
*Priority registration for master's, doctoral, postdoctoral trainees, and early career researchers April 21st to May 5th.
(Registration as an Associate Fellow required… it's easy! It takes less than 5 minutes.)
*Approximately 2 weeks prior to the event, you will receive a registration link to access our event management platform, PheedLoop. At this time, we will ask you to create your profile (title, discipline, university/organization, bio) and select your preferred afternoon workshop (you will have a choice out of 5).
*Enrolment open to everyone and anyone interested in more inclusive ways to approach mental health and how technology can enable greater reach (including those in academia, industry & NGOs) May 5th – May 31st
(Registration as an Associate Fellow required… it's easy! It takes less than 5 minutes.)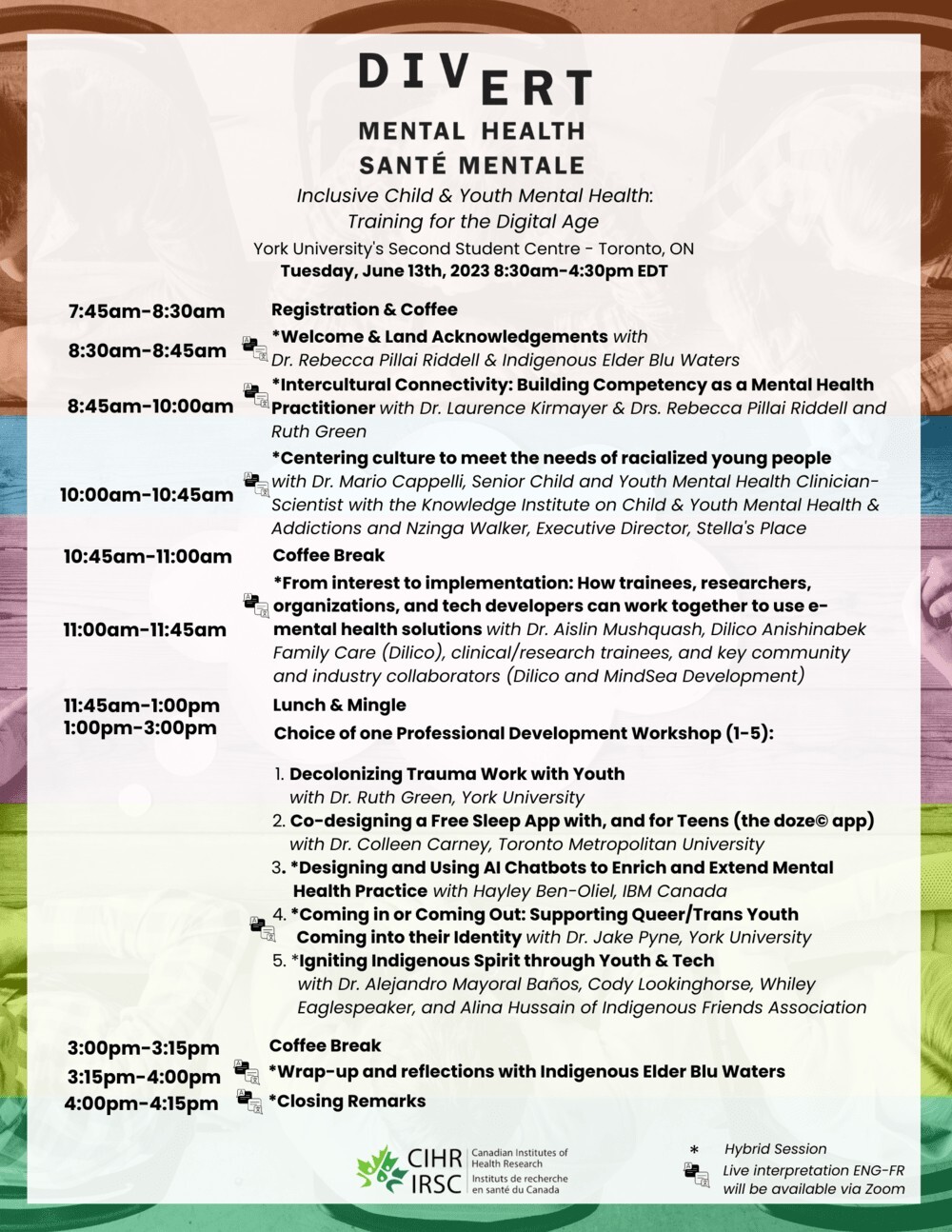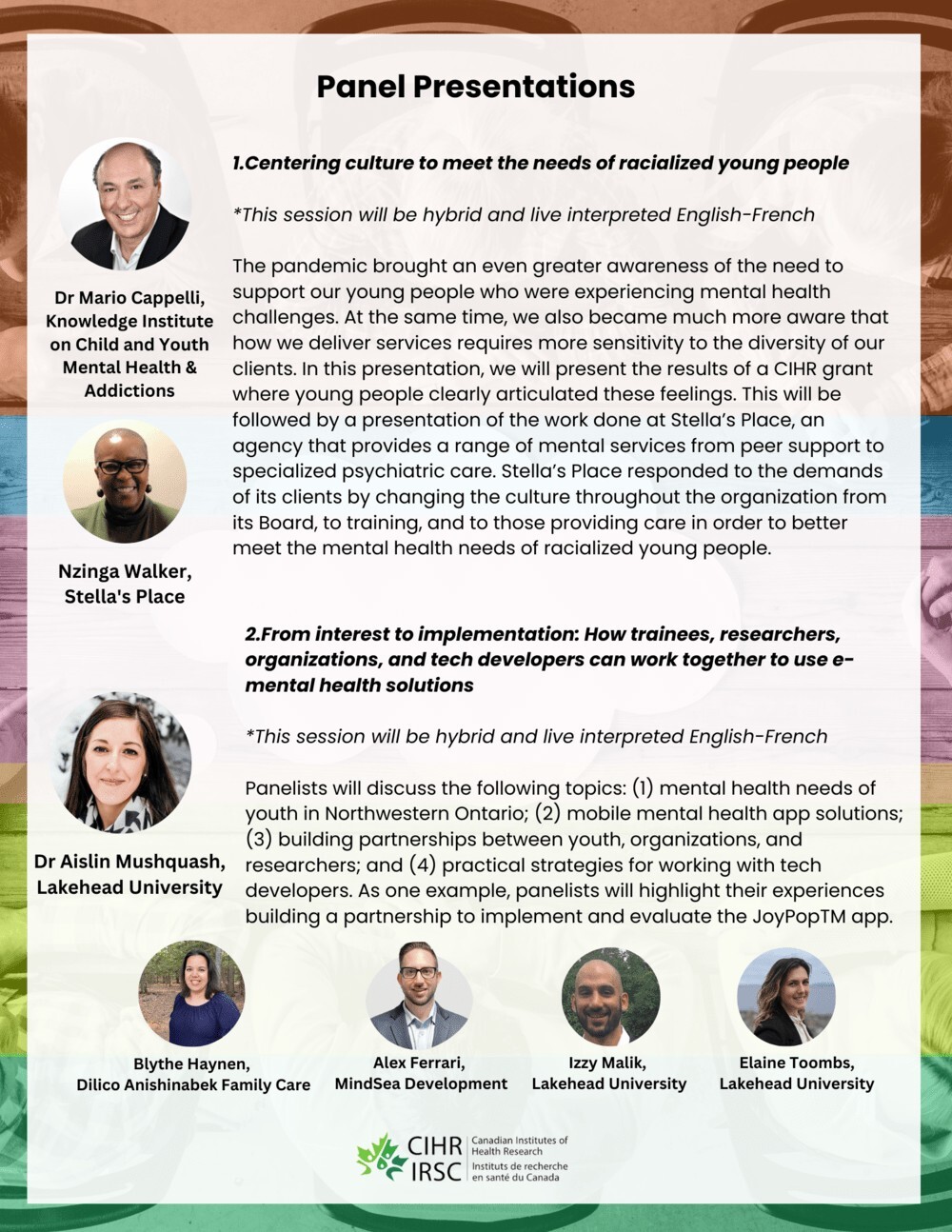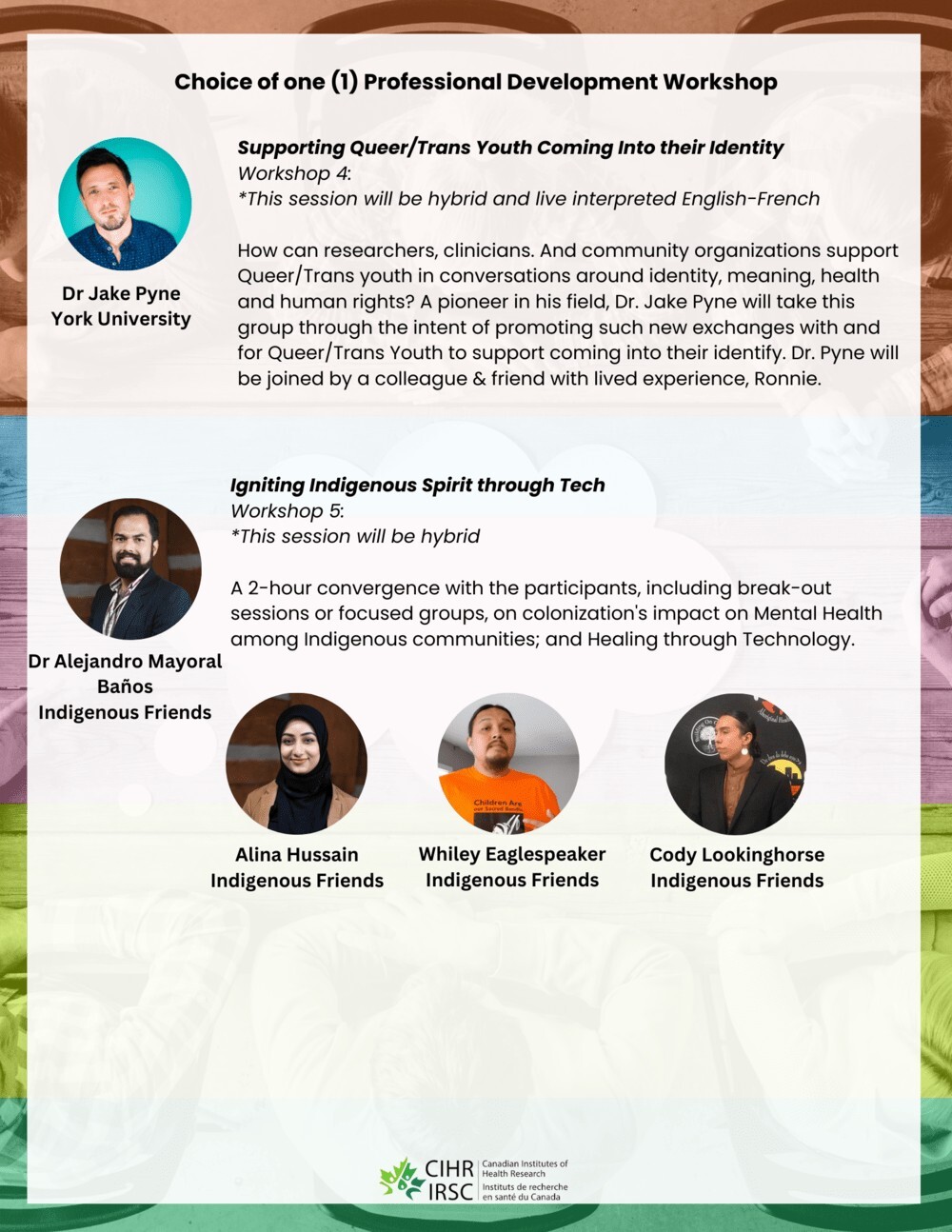 Event Details
Date

June 13, 2023

Start Time

08:30

End Time

16:30

Location

15 Library Lane, York University, 4700 Keele Street, Toronto ON, M3J 1P3

View on Google Maps
All times are EST/EDT (Toronto).